Filed Under No Reservations, Television | 564 Comments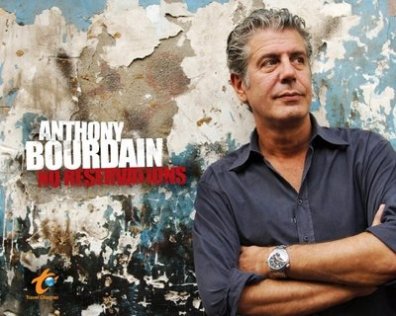 Just a heads-up, all … I received this notice from the Travel Channel team via Facebook:
Hi Fans,

Just wanted to send out a reminder about the No Reservations – Azores episode which airs on Monday, January 26 at 10pm EST on the Travel Channel.

Here's a little bit of information about the episode:

Having worked in kitchens alongside many generations of Azorean Portuguese immigrants, Tony decides it's time to find out more about their motherland and explore the culture that molded so much of New England's heritage. He hops from one island to the next while on the archipelago, dining on potatoes, pork, sausage, cabbage, shellfish, Portuguese soup and washing it all down with Gin and Tonics.

From the hot springs in Furnas on Sao Miguel to one of the most remote locations in the world on Sao Jorge, and onto the beautiful wine making region of Pico, Tony experiences the best of Azores.

Here is a sneak peek of the episode:

tony will also have a post about the episode up on his blog:

http://anthony-bourdain-blog.travelchannel.com/

Have a good weekend,
The Travel Channel Team
Filed Under Television | 93 Comments
Remember Fox's Kitchen Confidential – a TV tip of the cap to Anthony Bourdain's memoir of the same name? No? That's OK – neither does the rest of America. And I'm sure the higher-ups at Fox would rather erase any semblance of the failed show from the collective memories, Men in Black-style.
From BookSlut.com's review of the show:
When Kitchen Confidential popped up in my Netflix recommendations earlier in the summer, I was a bit confused — mainly because I barely remembered that the show even existed. Based on the memoir by Anthony Bourdain, and one of Fox's last efforts to create a show that might keep poor dear Arrested Development company, the Darren Star-produced half-hour tracked the adventures of Jack Bourdain (Bradley "Will on Alias" Cooper), recovering addict and master chef. The crew of his restaurant included Xander from Buffy the Vampire Slayer, the Asian dude from Harold and Kumar, and an incredibly hot British guy; the production values were top-notch and the food on screen looked scrumptious. You could almost forgive that the show wasn't actually that funny.

Well, maybe you could, but America sure didn't — the show was canceled four episodes in, released on DVD two years later.
Indeed. And with good reason. I watched ten minutes of an episode back when Fox was first hyping it and I wanted to poke my eyes and ears out with kabob skewers. It was positively awful.
Filed Under No Reservations | 59 Comments
From a recent FOX write-up on Anthony Bourdain's No Reservations:
NEW YORK — Anthony Bourdain suffered quietly as he dined on wart hog – encrusted with sand, fur and fecal bacteria – in the African country of Namibia.

Bourdain, host of the Travel Channel's "No Reservations," finished the meal knowing he would become terribly ill. But who was he to complain as a VIP guest of the same arid landscape where Angelina Jolie delivered Brad Pitt's baby?

Spitting out nasty bits of wart hog would be rude to the locals he was dining with.

"The chief is there in front of his whole tribe offering you his very best," Bourdain said. "Show respect. I'm lucky to be there. I'm lucky to see that. I'm lucky to have that experience. Chewing some antibiotics is a small price to pay."
Does that not sum up the best mentality towards food and life in general?
Filed Under No Reservations, Television | 148 Comments
Over at BlogCritics Magazine, Holly Hughes is questioning whether Anthony Bourdain has sold out:
In case you haven't noticed, however, we live in a media age, and I can't blame Anthony Bourdain for selling out as soon as TV came a-calling. It's not like he was a Nobel Prize-winning poet, anyway – he was just a chef, folks, and not a particularly distinguished one at that. At least his first foray into the televisual realm was on the Food Network: the 12-part A Cook's Tour, which played off on his willingness to eat gross local specialties from around the globe. Fair enough, and he did write a very entertaining book to go with it.
I dismiss the idea honestly. What is "selling out" anyway? Is it becoming popular? If so, it's a bit ironic – and more than a bit hypocritical – that each and every one of us aspires to success and perhaps a bit of infamy in our line of work; yet when someone else accomplishes the same goals, we trash them for "selling out".
Yes, on rare occassions, Bourdain's taped doing things that he admits he'd rather not do (dancing, riding a bicycle through the bustling streets of Buenos Aires, etc.), but these are clearly the exceptions rather than the rule.
Simply having a television show is not selling out. Sacrificing who you are and what you're willing to do for money is and I don't believe Tony's done either of these things. He's still the same crass, rough around the edges, traveling foodie who's unwilling to pull any punches. Have you heard how many times Bourdain swears and yells on his show? It's not as though he's sanitizing No Reservations content for family-hour cable television.
Says Holly:
Luckily, the visual style of these Travel Channel shows has found an equivalent to Bourdain's prose. The handheld camera, the quick-cut editing, the ambient soundtrack, put us right in the thick of his culinary adventures. Bourdain's voice-overs are astringent, self-mocking, wry – a perfect antidote to the gushing prose usually found in travel documentaries.
You mean the kind of gushing prose found in travel documentaries of … sellouts? No Reservations is the antithesis of same. You can't have it both ways.
Filed Under No Reservations, Television | 80 Comments

"This unforgettable and terribly sad episode of the normally high-spirited travel-food show came out of Bourdain's visit to Lebanon last July." The Sydney Morning Herald has the full story on this momentous episode of Anthony Bourdain: No Reservations.
Filed Under Les Halles | 21 Comments

The NY Post is reporting that Les Halles has been closed for the last two weeks due to apparent health code violations. Get the full story here »
Ever since the ray of sunshine first touched Anthony Bourdain's skin the day he was born, his parents new their child is geared up for a big future. His academic and professional achievements stand proof to this assessment, however his best work is witnessed when he's on his element – the kitchen. Bourdain exposed the dark secrets of New York City restaurant through his Don't Eat Before Reading This piece and since then, he's been considered an icon in the world of culinary arts.
This popularity has sparked Bourdain's numerous eating adventures all over the globe. He was even able to push his book A Cook's Tour In Search of the Perfect Meal into the best sellers list all over the United Kingdom and the United States. His latest project, Les Halles Cookbook: Strategies, Recipes, and Techniques of Classic Bistro Cooking contains the best cooking secrets and recipes from all over the world. Demand for the recipes in this book has made his publishers consider distributing them through mobile phones.
Filed Under Books | 15 Comments

Powells.com interviews Tony about his latest book, The Nasty Bits: Collected Varietal Cuts, Useable Trim, Scraps, and Bones
. Check out the full interview here.
Filed Under Video | 12 Comments


Tony goes unplugged and uncut at the South Beach Wine & Food Festival.
Filed Under Television | 13 Comments
"Not officially, but. Over at Dr. Vino's blog, it seems we may have something as close as we'll get. Dr. Vino does not wish to reveal his source, but … " More via Ruhlman's blog »
Filed Under Television | 52 Comments
"I actually WATCH Food Network now and again, more often than not drawn in by the progressive horrors on screen. I find myself riveted by its awfulness, like watching a multi-car accident in slow motion … " More via Ruhlman's blog »
keep looking »